Back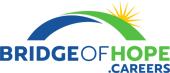 DEI Candidate Project Lead
Bridge of Hope
Admin and Secretarial,
Not for Profit and Charities,
Staffing,
Recruitment
Role
Position: DEI Candidate Project Lead
Reporting to: James Thomas or designate
Start Date: Target November 1st 2023
Location: Remote / circa 2-hour access to London Preferable
Working Hours: Fulltime or Part time until Q2, 2024
approx. 25 hours / week flexible
Remuneration: Base Salary £ 25K + Company performance bonus
We're seeking a DEI Candidate Project Lead, to join our growing team which helps people identified by their employment status as "disadvantaged", find jobs. This role will be crucial in creating and delivering the Bridgeofhope Careers' Plan, helping to make a diverse and inclusive workforce in all organisations across the UK.


THE ROLE:


· Working with the wider team on familiarisation of Bridgeofhope's corporate employment & digital services strategy
· Leading the Internal usage & online demonstration of the portal to candidates.
· Leading the development of and manage implementation of candidate acquisition strategies, including digital, social / business media and working with a partner network of charities & universities.
· Creating a focus campaign on candidates' quality, job readiness, and matching to clients' needs.
· Collaborating with key internal stakeholders on projects, including Ukrainian refugees, the Criminal Justice system etc.
· Project management to budget & schedule, including regular reporting.
· Maintain CRM information within the Company's platforms.
· Working with another team member on coaching & mentoring new staff
WHAT WE'RE LOOKING FOR: ( You will be a good match if you:)


· Have demonstrable success in meeting or exceeding sales targets in a similar sector, preferably in the diversity & inclusion marketplace.
· Is competent in verbal written communication and relation-building skills.
· Have relevant professional experience in digital media marketing and recruitment campaigns.
· Have experience working with ATS & CRM platforms ( Bullhorn an advantage)
· Is empathetic towards any marginality, sexual, racial, or ethnic culture.
· Can demonstrate work ethic and self-motivation to succeed in meeting targets & deadlines.
· Is skilled in the preparation and delivery of value propositions / commercial proposals.
· Has experience with Microsoft 365 packages and general I.T. skills.
· Is competitive and self-motivated.
· Works confidently as a leader and member of a close team.
Position: EDI Candidate Project Lead 2 of 2


ABOUT US


Bridgeofhope Careers Ltd is a socially focused company providing employment services, predominantly to those people identified by their employment status as "disadvantaged" including young people 16-24, women wishing to return to the workforce, ex-services veterans, the over 50s, recent graduates, those physically or mentally challenged, the homeless, refugees & ex-offenders.


The Company has developed an integrated, enhanced API driven jobs-feed & an extensive inclusive candidate database, within its successful Portal
www.Bridgeofhope.careers
.

Since its launch mid-2021, we have engaged over 50 Blue Chip Plc subscribers, and feed daily over 5,000 fresh job vacancies in the UK. Our talent pool is currently circa 25,000 and we plan to build this to over 50,000 by Mid-2024, with targeted digital and traditional candidate acquisition campaigns.


SUPPORT
Once appropriate pre-engagement formalities have been completed, access to and induction will be given on Prosper's Bridgeofhope.careers portal and our Bullhorn ATS/CRM platform .
The successful candidate will be provided with a new company owned notebook computer pre-loaded with Microsoft 365 suite & TEAMS and a company owned smartphone.
REMUNERATION
A competitive salary circa £ 25k ( annualised fulltime ) based upon experience will be offered, together with an uncapped performance bonus based upon mutually agreed KPI's.
APPLICATION
APPLICATION
If you are interested in this position please email Georgette/James a copy of your CV to georgette.mitchell@Prosper4.com / james.thomas@prosper4.com
Further information can be obtained by emailing Georgette.Mitchell@Prosper4.com
Reflecting the Company's Social Enterprise activities, Prosper4 Group pro-actively welcomes applications from all.